POSTED BYSELIE VISAAUGUST 29, 2019POSTED INUNCATEGORIZEDHow to we know that God exists?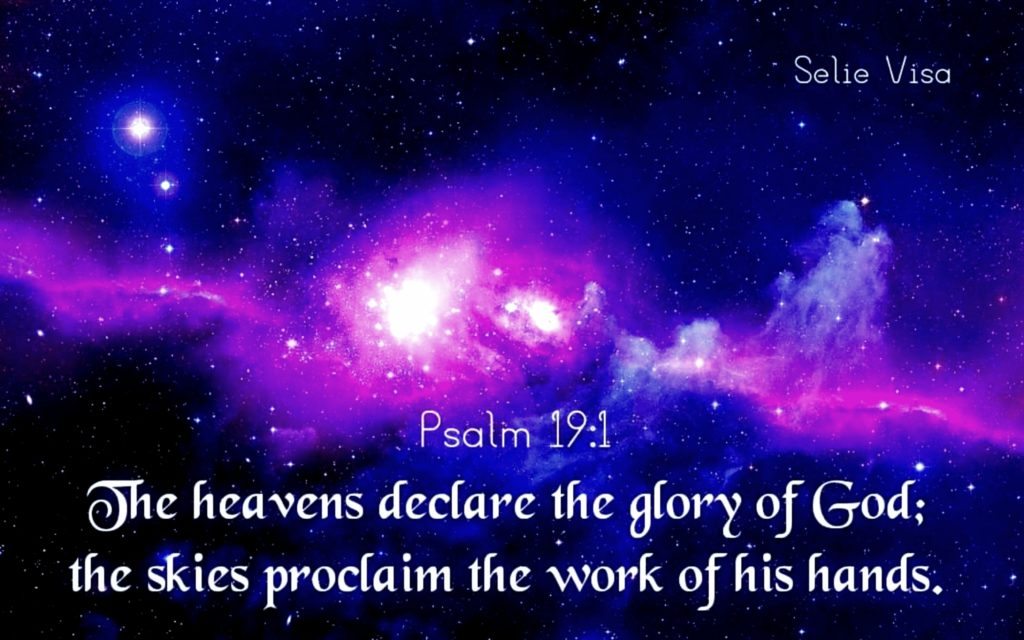 "An atheist is a man who looks through a telescope and tries to explain all that he can't see." – Anonymous
Does God exist?
This question continues to baffle many minds. The answer to the question never seems to be enough. That's understandable because God is not a physical ordinary being. We know some of His attributes. He is love. He is faithful to His promises. He is merciful. He is patient. He is slow to anger. He is just. He is spirit. He is eternal. He is holy. He is omnipotent. He is omnipresent. He is omniscient. Yet He is mysterious too. But the very fact that some attempt so aggressively to disprove His existence is actually an argument for His existence.
The Bible– written because God exists:
"In the beginning God created the heavens and the earth." The Bible begins with a majestic statement. The Bible does not seek to prove that God exists. Rather, its authors wrote the Scriptures with the knowledge that He does exist. They have no doubt or uncertainty about the existence of God. The very first verse of the Bible…
denies atheism (the doctrine that there is no deity),
disclaims polytheism (the belief in or worship of more than one god) and
rejects pantheism (a doctrine that equates God with the forces and laws of the universe).
It proclaims the one eternal Creator. It proclaims the existence of God before and apart from all else. God does not exist in created or man-made things. Difference between the word 'made' (asah in Hebrew) and the word 'created' (bara in Hebrew)… 'Made' means only transformation of existing substances. But the Hebrew word for 'create' expresses the origin of something new, as only God can. The Creation is an absolute beginning, a creating of something out of nothing.
The atheist– the fool:
Atheism is not a new phenomenon nor is it the result of advancement in science or human knowledge. People who deny the existence of God can be traced back to ancient times.
Psalm 14:1 The fool says in his heart, "There is no God." They are corrupt, their deeds are vile; there is no one who does good.
The "fool" is neither ignorant nor an atheist. The word is synonymous with the wicked, who aggressively and intentionally flouts his independence from God and his commandments. The "fool" in his heart denies the practical import of God's existence. He shuts off the affairs of this world from divine intervention and denies any personal accountability to God for his actions.
The problem of human suffering:
The world is ravaged by problems and difficulties of all sorts. The question we often hear is, "If there is a God, why is He not doing anything about them?" Our worldly problems, trials and difficulties do not mean there is no God. There is action and reaction. To every effect there is a cause. Through the disobedience of Adam, sin entered man. Our relation with God was severed. Besides this we commit sins too. We are sinners living in a fallen world. Hunger and poverty, personal and social problems, wars and strife, sickness and death, natural disasters and calamities will always be there with us. You don't have to be a Bible scholar to know that something is wrong. We have so many problems. But sin is our greatest problem. And because of sin physical death is inevitable and it will come sooner or later. But worse than physical death is spiritual death, which means separation from God. But Jesus died to pay the penalty of our sins. And by grace through faith in Him we can have eternal life…. reunited with God.
A way to evade accountability:
People claim to reject God's existence because it is "not scientific" or "because there is no proof." The true reason is that once they admit that there is a God, they also must realize that they are responsible to God. If God exists, then we are accountable to Him for our actions. If God does not exist, then we can do whatever we want without having to worry about God judging us. That is why many of those who deny the existence of God cling strongly to the theory of naturalistic evolution– it gives them an alternative to believing in a Creator God. God exists and ultimately everyone knows that He exists.
Faith is the real key:
Hebrews 11:3 "By faith we understand that the universe was formed at God's command, so that what is seen was not made out of what was visible."
Faith is a present reality, not exclusively the property of past heroes. Faith gives us convictions about creation. Belief in the existence of the world is not faith, nor is it faith when people hold that the world was made out of some preexisting "stuff." But when we understand that it was the Word of God that produced all things, that is faith.
The visible universe is not sufficient to account for itself. But it is faith, not something material, that assures us that it originated with God. This world is God's world, and faith assures us that God originated it.
Man's attempt to find God:
The existence of God is to be accepted by faith. But this does not meant that there is no proof of His existence. In addition to the biblical arguments for God's existence, there are other arguments.
The universe is the whole of space– time containing matter, energy, and forces. It is the summation of all physical laws and constants. It contains everything from the smallest subatomic particles to the largest galaxies. It also includes all biological entities as well as humankind. We live in a tiny globe surrounded by an endless universe. Over the last few thousands of years we are trying to learn, to discover and to understand the ultimate force behind everything we see. This is man's attempt to find God.
The cosmological argument:
The cosmological argument states that an effect must have a cause. There is a reaction to every action. To every effect there is a cause. This universe and everything in it is an effect. There must be something that caused everything to come into existence. Ultimately, there must be something "un-caused" in order to cause everything else to come into existence. That "un-caused" cause is God.
The moral argument:
Another argument is known as the moral argument. Every culture throughout history has had some form of law. Everyone has a sense of right and wrong. Murder, lying, stealing, and immorality are almost universally rejected. Where did this sense of right and wrong come from if not from a holy God?
The teleological argument:
The teleological argument states that since the universe displays such an amazing design, there must have been a divine Designer. Nothing is random; there is an intricate and complex design in everything… from the smallest particles to the largest galaxies. Hence we cannot deny the existence of God who designed and placed everything in its proper place.
"I know this world is ruled by infinite intelligence. Everything that surrounds us- everything that exists – proves that there are infinite laws behind it. There can be no denying this fact. It is mathematical in its precision." — Thomas Alva Edison
The universe testifies God's glory:
Psalm 19:1-4 "The heavens declare the glory of God; the skies proclaim the work of his hands. Day after day they pour forth speech; night after night they display knowledge. There is no speech or language where their voice is not heard. Their voice goes out into all the earth, their words to the ends of the world."
The glory and wisdom of God are evident in the vastness of space. The universe is a revelation of God's creation of the magnificent heavenly bodies, which are characterized by radiance and regularity. The verbs "declare" and "proclaim" express the continuous revelation of the heavens. God alone is the Creator; the heavenly bodies are "the work of his hands."
The cycle of day and night contribute to the regularity of the seasons and thus to the regularity of the agricultural calendar. They reveal "knowledge" in their own distinct "speech." The "knowledge" is not only knowledge about God but also a special kind, best understood as God's wisdom, revealed in his creation. Being unrestricted by the division of languages, natural revelation transcends human communication without the use of speech, words, and sounds. To those who are inclined to hear, revelation comes with no regard for linguistic or geographical barriers.
"When a load of bricks, dumped on a corner lot, can arrange themselves into a house; when a handful of springs and screws and wheels, emptied on a desk, can gather themselves into a watch, then and not until then will it seem sensible, to some of us at least, to believe that all these thousands or millions of worlds could have been created, balanced and set to revolving in their separate orbits – all without any directing intelligence at all." — Bruce Barton
Jesus, the living revelation of God:
The universe (the whole cosmic system of matter and energy of which the Earth is a part) reveals the works of God. This is natural revelation. Than we have the special revelation in the Bible, the Word of God. Jesus is part of that special, a living, walking and talking Word of God.
John 14:6 Jesus answered, "I am the way and the truth and the life. No one comes to the Father except through me."
Jesus did not claim merely to know the way, the truth, and the life. He actually claimed to be the only answer to human problems. Jesus' solution to perplexity is not a recipe; it is a relationship with him.
He is the way to the Father because only he has an intimate knowledge of God, unmarred by sin. He is the truth because he has the perfect power of making life one coherent experience irrespective of its ups and downs. He is the life because he was not subject to death but made it subject to him. He died to demonstrate the power and continuity of his life. Because he is the way, the truth, and the life, he is the only means of reaching the Father.
Jesus is the only authorized revelation of God in human form, and he is the only authorized representative of humanity to God.
Denying God is without excuse:
Despite all of this, the Bible tells us that people will reject the clear and undeniable knowledge of God and believe a lie instead. Romans 1:25 declares, "They exchanged the truth of God for a lie, and worshiped and served created things rather than the Creator– who is forever praised. Amen." The Bible also proclaims that people are without excuse for not believing in God: "For since the creation of the world God's invisible qualities– His eternal power and divine nature– have been clearly seen, being understood from what has been made, so that men are without excuse" (Romans 1:20).
A relationship with God:
Besides these we know God exist because of the ways He had touched and so miraculously changed our personal lives with His wondrous love and grace. We sense His presence, we feel His leading, we know His love, and we desire His grace. God has set eternity in our hearts (Ecclesiastes 3:11 "He has made everything beautiful in its time. He has also set eternity in the hearts of men; yet they cannot fathom what God has done from beginning to end". Our lives will feel meaningless and our hearts empty until we get to know God. You can't fill this spiritual void by denying the existence of God and holding to the theory of evolution (which only makes you a shaved monkey) or anything else. The void in your heart can only be filled by the One who made it.